Shortlist, Winner and Accolades IBP 2017 Social Sciences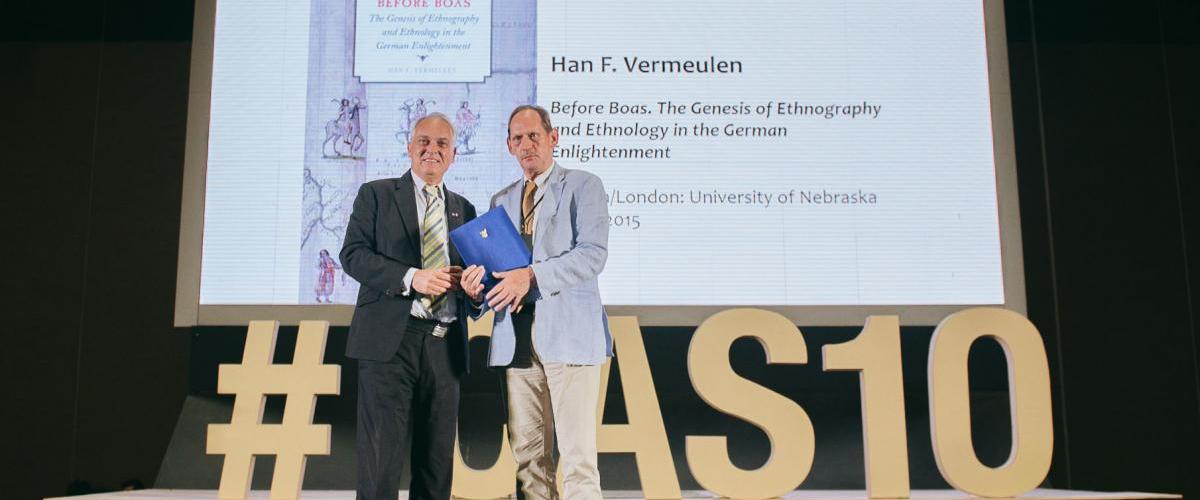 Shortlist, Winner and Accolades IBP 2017 Social Sciences
Winner of IBP 2017 Social Sciences
Han F. Vermeulen, Before Boas. The Genesis of Ethnography and Ethnology in the German Enlightenment. University of Nebraska Press, 2015.
Before Boas is an outstanding publication epitomising thirty years of accumulated research on the genesis and development of German ethnographic traditions. Vermeulen's investigation covers a long period, emphasising the importance of 18th century German Enlightenment for writing about all peoples(including Europeans), tracing the consolidation of key-concepts, observing schools of thought and names that played a central role to the trajectory of anthropology and ethnology in the German-speaking world. Anthropological theory and ethnography are largely refractory to non-Anglophone contributions to the mainstream discipline, which grants to Before Boas the status of a masterpiece and a major contribution to the history of anthropology at large and rightful winner of the IBP 2017 in the Social Sciences.
Shortlist IBP 2017 Social Sciences
Jie Li, Shanghai Homes. Palimpsests of Private Life. Columbia University Press, 2015.
Shanghai Homes is an insightful contribution to social sciences in Asia and an inspiring model of a methodological and theoretical pathway for research elsewhere. Jie Li shows a formidable narrative combining microhistories, family memoirs and self-ethnography. By using drawings, photographs, maps, and so on, Li develops strategies to observe private life through the analysis of space, artifacts and gossip. This book is a revised version of her dissertation, which gave her the chance to include the collapse of her own community landscape: the demolition of Shanghai alleyways, the dissolution of communities, and the fading of the remembrances of her elders. Shanghai Homes is a great contribution to many fields of social science due to its interdisciplinary character.
Pamela D. McElwee, Forests Are Gold. Trees, People, and Environmental Rule in Vietnam. University of Washington Press, 2016. 
In Forests are Gold, Pamela McElwee argues that the 'environmental rule' is co-produced as a consequence of shifting ideologies and concepts around 'nature' and political processes at distinct historical periods. Employing an historical-ethnographic approach, McElwee meticulously documents the specific ways in which knowledge production of forests intersects with policy management to govern people from the beginning of French colonial rule to present day Vietnam. The book draws on wide-ranging debates in anthropology—from political ecology, postcolonial studies, and actor-network theory—and provides a useful analytical counterpoint to the dominant narrative surrounding environmental politics.
William Peterson, Places for Happiness. Community, Self, and Performance in the Philippines. University of Hawai'i Press, 2016.
Places for Happiness is based on William Peterson's decade-long fieldwork in the Philippines that explores performance activities, practices, and experiences to foreground the close interconnection between interiority, intersubjective relationship, and the Filipino national cultural imaginary. Peterson uses 'street dancing' as a lens to analyse the meaning-making process regionally, nationally, and in the Filipino diaspora. Peterson brings to life the visceral dimension of how these community-based events and festivities are experienced and ultimately performed by their participants.
Ellen Widmer, Fiction's Family. Zhan Xi, Zhan Kai, and the Business of Women in Late-Qing China. Harvard University Asia Center, 2016.
Fiction's Family explores the trajectory of a family of writers at the end of the Qing Dynasty. It explores how the relation between two siblings and the conflicts between the parents reflected on the literature produced by each of the members. Widmer produces an intricate analysis of the trajectories, writing genres and themes of the family members, while simultaneously building a bridge to the late Qing period, framed through formats as generation and lifetime, individuals and family and, most importantly, gender.