The Criminalisation of People Smuggling in Indonesia and Australia
The Criminalisation of People Smuggling in Indonesia and Australia
This book offers an ethnographically informed critique of the hyper-politicised debate on the facilitation of irregularised migration for people seeking asylum between Indonesia and Australia. While state authorities decry such facilitation as "people smuggling" and push for its criminalisation, the book's focal points are the need for unsanctioned passages for people seeking asylum and the detrimental consequences of the criminalisation of "people smuggling" for both the facilitators and the people seeking asylum.

Drawing on court verdicts and interviews with convicted facilitators and law enforcement officials in Indonesia, this book provides a unique and holistic picture of the causes, conditions, procedures and intricacies surrounding the facilitation of irregularised maritime journeys between Indonesia and Australia covering almost four decades. It scrutinises the micro-level operational and place-specific characteristics of people smuggling and the consequences of anti-people-smuggling policies in Indonesia and relates those consequences to changes in the macroenvironment, which include relevant legal, political, social and economic factors that determine the overarching conditions of irregularised mobility. Compared to other states in the Global North, Australia has claimed to be more "successful" with its comprehensive approach to eliminate unsanctioned migration at sea by combining punitive, communicative–reventive and interceptive measures. This book challenges key achievements and objectives in regard to criminalising the facilitation of irregularised migration by foregrounding the many negative side effects that have emanated from "stopping the boats".

The book will be of interest to researchers in the fields of anthropology and sociology, law and criminology, Asia-Pacific Studies, Southeast Asian Studies and international migration.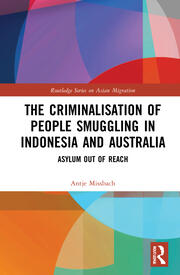 Theme
International Relations and Politics