Shortlist and Winner IBP 2019 Spanish / Portuguese Language Edition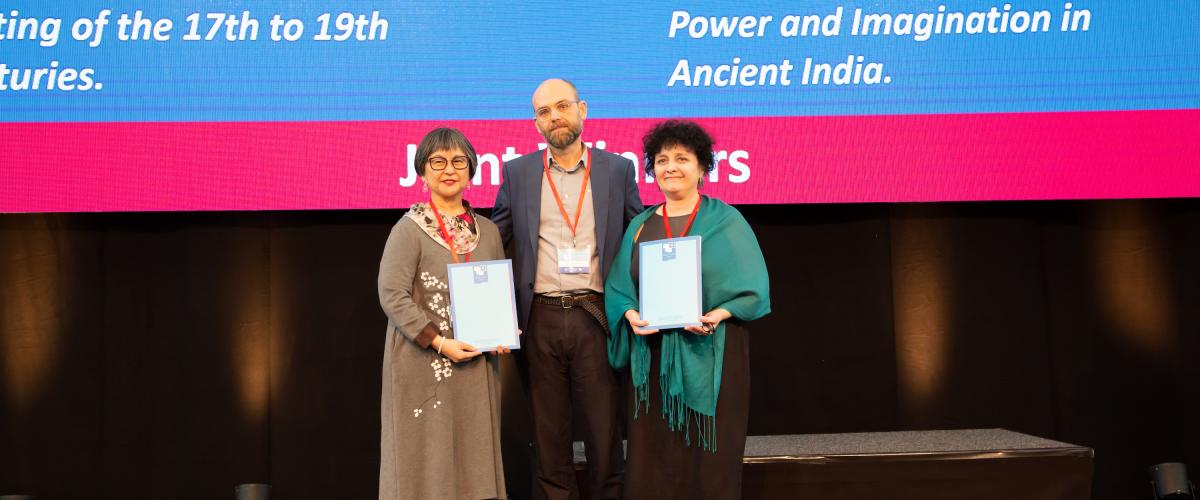 Shortlist and Winner IBP 2019 Spanish / Portuguese Language Edition
Total number of books submitted: 66 (45 Spanish / 21 Portuguese)
Organiser and sponsor: The South-South Exchange Program for Research on the History of Development (SEPHIS)
Secretary and Chair Reading Committee: Claudio Pinheiro
Reading Committee - Humanities: Patrícia Souza de Faria
Reading Committee – Social Sciences: Lia Rodriguez de la Vega
Joint Winners of IBP 2019 Spanish/Portuguese Language Edition
Madalena Natsuko Hashimoto Cordaro, A Erótica Japonesa na Pintura & na Escritura dos Séculos XVII a XIX. 2 volumes. USP, 2017.
Japanese Erotic Painting and Writing of the 17th to 19th centuries is a masterpiece about Japanese erotic painting and literature of the Edo period and definitive contribution to Japanese Studies in Latin America and at large. It displays Prof. Hashimoto Cordaro's remarkable erudition, incorporating visual narrative and fluid writing in an exquisite and attractive way. The sophisticated choice of topics particular to the work, aided in the impeccable graphic quality.
Óscar Figueroa, La mirada anterior: poder visionario e imaginación en India antigua. UNAM, 2017.
This is extremely inspiring and essential reading, in both academic and non-academic terms. The book follows the trajectory of studies on the imaginary, emerged and consolidated in France, in the second half of the twentieth century, concentrating in Sanskrit India. It avoids a purely linguistic perspective, addressing a hermeneutic dimension while observing the theme through philosophical, religious and literary perspectives, combined with a "visionary-ritual, poetic and contemplative" praxis. At its core, the book observes the centrality of imagination for transcending spatial-temporal dimensions, through writings of Sanskrit thinkers who argue that imagination builds reality (the erstwhile look).
Shortlist IBP 2019 Spanish/Portuguese Language Edition
Axel Gasquet, El llamado de Oriente. Historia cultural del orientalismo argentino 1900-1950. EUDEBA, 2015.
Gasquet's work is a must-read book. The publication introduces the cultural history of Argentinean Orientalism, analysed through its literary culture and the discourses of local intellectuals concerning the East, in the first half of the 20th century. The book observes the work of fifteen Argentine intellectuals, aspects that affect individual trajectories, generations, in contrast to the European Orientalism discourse, dialoguing with the nineteenth century Argentinean Orientalist discourse. While contrasting Argentinean and Western views of the East, the book sheds light on cultural exchanges between peripheral regions.
Filipa Lowndes Vicente, Entre Dois Impérios: Viajantes britânicos em Goa (1800-1940). Tinta da China, 2016. 
While the literature traditionally emphasises colonisers-colonised asymmetries, Vicente concentrates on the existing hierarchies between British and Portuguese empires. British travellers sought in Goa's ruined Portuguese buildings the vestiges of colonial past and, simultaneously a metaphor for the decline of Portuguese India, and a lesson so that such decline should not be repeated in British India. The author incorporates the perspective of gender studies in her analysis, as well as underlines the role that the Indians themselves played in the elaboration of the stories written by the British. The book makes use of watercolours, photographs and several unpublished travellers' reports of Goa.
Carlos Mondragón, Un Entramado De Islas: Persona, Medio Ambiente Y Cambio Climático En El Pacífico Occidental. El Colegio de México, 2014.
This exciting work presents a detailed ethnography of a native community from Islas Torres, Melanesia, in the context of the prohibition of social investigations following Independence of Vanuatu in 1980, and the Research Agreement developed between researchers and local communities. Mondragón's work relates to the first generation of postcolonial anthropologists who worked in the region. This investigation (1998-2012) concentrates on notions of personhood, group, territory and belonging, framed by categories of space and time, providing an innovative contribution to environmental anthropology and anthropogenic climate change, re-inscribing the traditional knowledge of the community through an accurate account of the dynamics between knowledge production and social reach.
Dahil M. Melgar Tísoc, Entre el centro y los márgenes del sol naciente. Los peruanos en Japón. Fondo Editorial de la Universidad Nacional Mayor de San Marcos, 2015.
This work deals with mid-1980s and the 1990s migration movements of Japanese-descendants (Nikkei) from Peru to Japan. Melgar Tísoc's work analyses a political economy of ethnicity that underlies transgenerational migration, which destabilised the category of Nikkei itself. It follows life-trajectories of Japanese and Japanese descendants to Peru back to Japan, examining migration policy, particularly the definition of degrees of descendance, while observing characteristics of multidimensional violence that Peruvian migrants experience in Japan. It trusts on anthropological fieldwork in Peru and Japan with an interesting ethnography from the margins approach, an innovative approach in biopolitics.