Shortlist and Winner IBP 2019 German Language Edition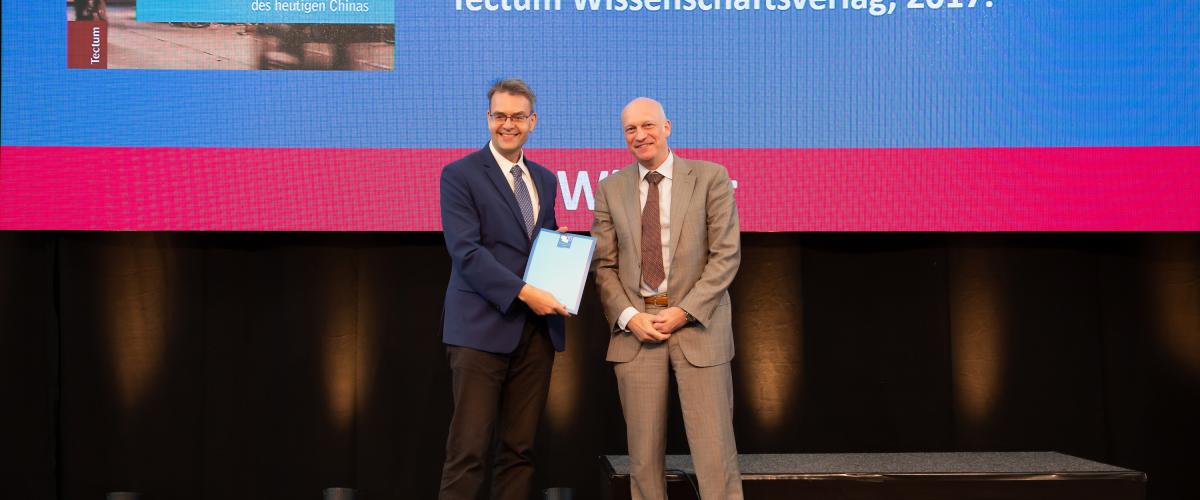 Shortlist and Winner IBP 2019 German Language Edition
Total number of books submitted: 20
Organiser and sponsor of the IBP 2019 German Language Edition: Max Weber Stiftung – Deutsche Geisteswissenschaftliche Institute im Ausland
Secretary: Harald Rosenbach
Acting Secretary: Tina Rudersdorf
Reading Committee – Humanities: Regine Mathias, Philip Clart and Isabelle Huber
Reading Committee – Social Sciences: Felix Malin and Clemens Jűrgenmeyer
Winner of IBP 2019 German Language Edition
Thomas Zimmer. Erwachen aus dem Koma? Eine literarische Bestimmung des heutigen Chinas.Tectum Wissenschaftsverlag, 2017.
Zimmer argues against the widespread expectation among Western literary scholars that the commercialisation of the literary industry will bring about a political opening. Although Chinese writers' economic dependence on government agencies has decreased, this has also made their living conditions more precarious and brought about an increase in market-economy constraints in literary production. As the state's control through censorship and surveillance has not abated, literary creation continues to fail in directly addressing a wide range of subjects. Zimmer uses case studies of novels of contemporary Chinese authors to show how literary creativity unfolds in this tense environment. Zimmer successfully uncovers the existing tension between official historiography and the need for literature to close the gaps.
Shortlist IBP 2019 German Language Edition
Michael Facius, China übersetzen. Globalisierung und chinesisches Wissen in Japan im 19. Jahrhundert. Campus Verlag, 2017.
China übersetzen innovatively shows how the culture of scholarship, shaped by Chinese/Sinitic writings and ideas in Japan's early modern era, defined the view of and engagement with knowledge and the world order from the Tokugawa period through 1919. This knowledge was repeatedly recontextualised in reaction to globalisation in the 19th century, and parts were ultimately absorbed in a culture of academic science. Facius breaks with the often one-sided explanatory models by constantly questioning Eurocentric assumptions about the Japanese view of China. He not only produces an informative reinterpretation of the origin and dissemination of Chinese knowledge in historical Japan, but also makes an important contribution to the global history of the humanities.
Bärbel Högner, Chandigarh nach Le Corbusier. Ethnographie einer postkolonialen Planstadt in Indien. Dietrich Reimer Verlag, 2017.
While the discussion on Le Corbusier's urban concrete monuments in Europe continues to be about the mutual aesthetic (lack of) understanding exhibited by admirers and detractors of his style, such controversies seem to be secondary in the case of the planned city of Chandigarh (India). There, the abstractness and anonymity associated with béton brut [raw concrete] and embodied in a seemingly technocratically structured world has turned into its opposite on various levels, ultimately producing a diverse place with a middle-class, small-town character. Högner's actor-analytically and photographically documented recording of planned and lived daily life over an extended period of time has opened a new chapter in urban-architectural ethnography.
Axel Michaels, Kultur und Geschichte Nepals. Kröner Verlag, 2018.
Axel Michaels provides a comprehensive history of Nepal in German for the first time, giving readers an in-depth and lively historical picture of the state, society, culture and religion. The various thematic blocks make the book a practical reference work. It is heavily based on original sources, which the author himself has been involved in culling for decades. These characteristics demonstrate the originality and quality of the book. The individual chapters are tied together by the overarching central question: What holds Nepal together? Michaels is optimistic about Nepal's potential for development, as he regards the country as a Shangri La of cultural diversity that could serve as a model for the world's desired unity in diversity.
Raji C. Steineck, Kritik der symbolischen Formen II. Zur Konfiguration altjapanischer Mythologien.Frommann-Holzboog, 2017.
Steineck's book builds on his fundamental critique of Ernst Cassirer's philosophy of symbolic forms. He applies his philosophical perspective to ancient Japanese mythology. Steineck dares to take the great step of reconsidering the Kojiki and Nihon Soki, which results in a convincing empirical application of his philosophical positions. He develops a fresh perspective on a central object of Japanese cultural history that previously seemed to have been exhaustively researched. The work not only provides a new view of the Japanese myths and their impact, but also pleads for a modified view of the myth Steineck considers, as a concept of the symbolic form sui generis.